Hello… and welcome to the Budde Bunker website.
Here you will find the information on our custom container "HUNTER CABINS", MOBILE OFFICES,
"FAMILY CABINS" and "FAMILY SHELTERS" and More.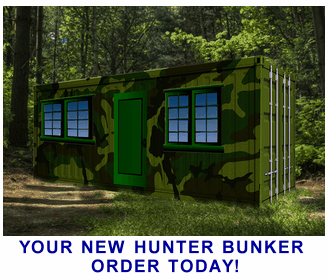 We customize 40' containers to your needs and how
we can help bring the containers directly to you and your location.
To start the process we offer the basic package with most of what you'll probably have in mind.
A closet
Storage Shelves
Electric florescent lights
3 electric plug-in receptacles
A wood stove
Cabinets
Small kitchen counter
Kitchen sink
A small propane stove
Water storage barrels
A 6' wall table
2 chairs
2 twin beds
A compost toilet
3 windows and steel door
Your color choice of outside color: Tan or Army Green
The inside color comes in White only
Other Extra Options:
Painted Camo on outside container
Wallboard with insulation
Workable shower
Rechargeable battery system
(you'll need a generator)
A power inverter
A small refrigerator
Extra water barrels
Extra storage units
A larger table
Extra chairs
Bunk beds (4 twin size beds)
Or 1 queen size bed
A couch (or futon)
Small microwave oven
You can contact us for more options.
We can build your custom container cabin for 2 persons, 4 persons
or small family units.
A "Family Vacation Cabin" may include 1 queen size or full size bed
and 2 twin size beds as an option.
Our container cabins are made for 110 or 120 power but can switch to AC/DC.
You would need to have power to your cabin for hook-up or go with our generator/battery storage package. We can offer our selection
of generator or you can provide your own portable generator.
(You'll need to supply gasoline)
We will supply the container with 4 Deep Cell chargeable batteries
with our inverter. You can run the lights and microwave oven
and several small appliances for the weekend with our
rechargeable power system.
Budde Bunkers want you to be happy with your new container cabin,
so we strive to bring you quality at an affordable price.
We will send you a downloadable sheet that you can print out and
provide us with what options you choose to add for your
custom container cabin.
Our basic package container cabin starts at $25,000
(not including shipping or set up)
You'll need to provide us with your location (zip code)
We'll need an accessible road to deliver your container cabin along
with you providing any necessary building permits, etc.
You'll need a leveled ground area for cabin placement.
Once you've sent us your option sheet along with any special requests
we will give you a confirmed quote.
A deposit will be necessary to begin building your
custom container cabin.
Most cabin projects will take about 30 days to complete.
Delivery may take up to a week to 10 days depending on
location and weather.
We'll be in constant contact with you about production
and delivery schedules.
FOR MORE INFORMATION PLEASE JOIN OUR BUNKER COMMUNITY
Powered by

EMF
Contact Form